My basil has grown like crazy in the garden and I always struggle with finding way to use the mass amount of herbs that grow -- its sad to see some die unused in the fall. I dry them, save them in jars, use them fresh, etc. Basil is one of my absolute favorites.
Today I made basil pesto from a recipe from one of my favorite food blogs. Some of the yummiest recipes I have ever encountered, and the basil pesto was no exception.
Some notes about this recipe:
Be warned, 3 cups of packed fresh basil is no joke! I mean, I cleared off several plants to get this much.

I used Romano instead of Parmesan (because that's what we had) and it was still super tasty.

I only had to buy one ingredient -- pine nuts. Ever bought pine nuts? Those babies are not cheap! But, they are sooo unbelievably delicious. Thankfully you only need a 1/2 cup in this recipe.
I decided something today while pesto-making. If we ever find ourselves with more money than we know what to do with (ha) I am going to buy pine nuts and eat them every single day for snacks.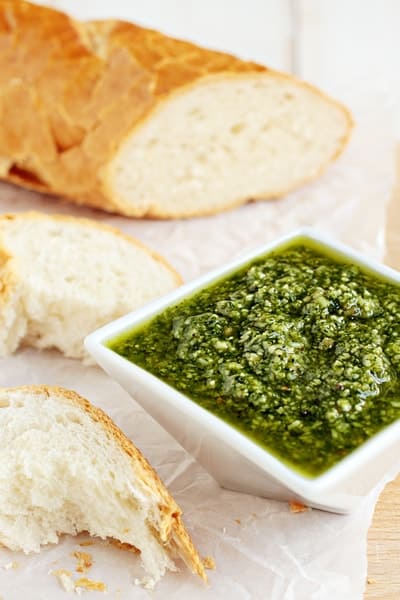 Now for some cute kid photos...
This is Charlie when we was barely a year old. He thought it was so funny to have his dog in his bed with him.
He is almost 2 and still asks for his dog every morning. She doesn't love to be put in his crib with no escape (especially now that he tries to "snuggle" her), but tolerates the whole deal. I think they will be best buddies as soon as he isn't so rough and she doesn't run away all the time.